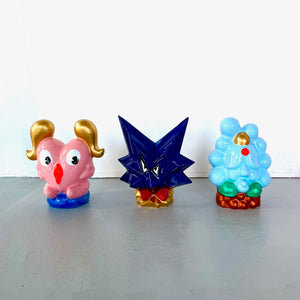 Hans van Bentem
'LOVE AGGRESSION DEPRESSION'
Set of 3
Shipping and handling per order
The Netherlands: Free
Europe: €16,50
Rest of the world: €25
Set of 3
Unique, signed & numbered sculptures (2022)
Glazed ceramics + hand painted with lacquer paint
Each approx. 28 x 25 x 15 cm
Edition: 33
Hans van Bentem's new series of ceramic sculptures depict Love, Aggression and Depression in cartoonish characters. A reference to our basic, essential emotions that make up our emotional life (at least according to Niek Brouw's medical self-help book of the same name), which can also be translated into Creativity (+/-), Activity (+) and Passivity (-) … and if we balance these 'values', a happy life is ours!
Hans van Bentem (1965) works steadily on an ever growing oeuvre since graduating in 1988 from the Royal Academy of Arts, The Hague. He produced an oeuvre of Monumental Sculptures, large installations and glass and light objects, as free work and commissioned, in public space and for galleries and Museums. He uses classic, traditional materials to realise his contemporary stories. For this, he is always looking for craft workshops where certain ancient techniques are still being used; 'Like a quest for endangered species…' For these collaborations he is travelling the world, to China for porcelain, India for bronzes, for woodcarving Senegal and Indonesia and for crystal to the Czech Republic. He also works in the Netherlands, where he collaborates with various glass and ceramic workshops and companies with a long history. For the Kunstmuseum in The Hague in 2012 he made six installations in the period rooms, titled: "Keep on Dreaming!" which has been a traveling exhibition in historical sites ever since. His recent works includes a 3 meter high crystal vase called MEDICIS XL for the 250 year old French crystal company BACCARAT and large chandeliers and stained glass wall sconces for the Beurspassage in Amsterdam. The latest project is the large 'stranded SHIP' sculpture 'ALL ABOARD' on a roundabout for the city of Amsterdam & the Harbour Authority.

- Some Highlights:

Exhibitions and projects in ao. Chicago, Miami & New York USA, Paris, London, Berlin, Prague, Dakar & Beijing.

Commissions for ao. Escher Museum, The Hague, NL, Embassy of the Netherlands South Africa, Ministry of Defence NL, Beurspassage Amsterdam, NL, Nicola Erni Collection, Zug, Swiss.

Museum Exhibitions in NL ao. Kunstmuseum The Hague, Municipal Museum Kampen, Museum Jan Cunen Oss, Museum Beelden aan Zee.

Collaborations with ao. Baccarat Paris, Victor & Rolf /l'Oreal Flowerbomb perfumes, Designs for Pols Potten, NL.