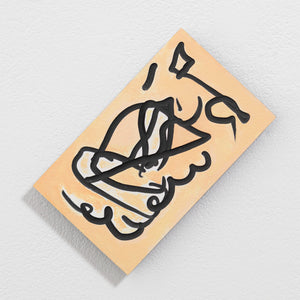 David Bernstein
'Looking For Wind In The Fields', I, 2022
Unique painting
Shipping and handling per order
The Netherlands: Free
Europe: €16,50
Rest of the world: €25
Unique painting
Acrylic, black MDF, neodymium magnet
19,8 × 12 × 1,9 cm
The artwork comes with a magnetic hanging system that gives the freedom to hang the piece in every desirable angle
Including Certificate of Authenticity
'Looking For Wind In The Fields' is a new series of paintings made by carving black MDF to produce squiggling and twisting lines. The white ground is painted with yellow dots and symbols of flying Judenhuts (Jewish hats from the Middle Ages), which look like UFOs. These refer to the artist's exploration of Judeo-Futurism (reclaiming symbols of the past in order to reimagine and queer them).
The black squiggles are free flowing paths, a chaos of movement, much like the accumulated touches on a smartphone's surface. The painting's shaped backs also refer to a technological device, an object to hold and imagine infinite potential.

David Bernstein (b. 1988 San Antonio, Texas)is an artist based in Brussels and Amsterdam. He combines performance, sculpture, and writing to tell stories through objects. He plays with absurdity and humor, using hospitality to invite others into his curious world.