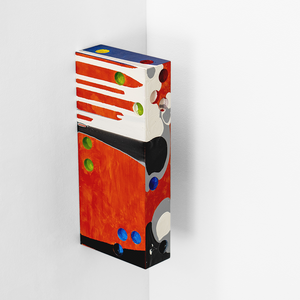 Joost van Haaften
'The Incunables no. 10'
Unique, signed wall sculpture
Shipping and handling per order
The Netherlands: Free
Europe: €16,50
Rest of the world: €25
Unique, signed wall sculpture (2021)
Beech wood, alkyd, acrylic
Height: 33 cm | Width: 6 cm | Depth: 15 cm 
The art piece hangs vertically, on one screw. The artwork has two suspension holes on the back, so one can choose the preferred top and bottom
The title 'The Incunables' refers to the earliest stages or first traces in the development of book printing.
The wooden blocks are painted at first in a sober yet colorful, linear way. Then holes are being pierced into the wood. In contrast with the underlying painted layer, glossy paint is poured at random over the works.
The two different layers, including the holes, convey a combination of possible content: rational thoughts, intuitive moods and ideas, and feelings. The block book alike paintings invite the onlooker not only to look at the imagery, but also to read it.
Joost van Haaften (1952) is a modern painter and visual artist, strongly aware of the traditions in painting that preceded him. He is constantly looking for a possibility of finding the precise imagery for his wonderings in order to invite the onlooker to experience rather than to understand his paintings.
When one looks at the oeuvre of Joost van Haaften – made in the successive periods of 1975-1985, 1985-1990, 1990-2005, 2005-2012 – one not only sees a mirror of the general development in painting during that era, but also a reflection on the world he is living in. For many years he has been working in the reclusion of his studio, slowly and precisely shifting the focus in his paintings from the world outside to the intimate unseen.