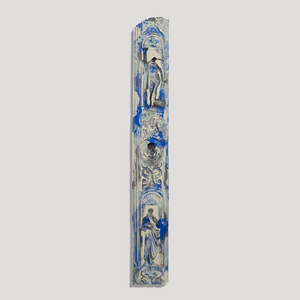 Nynke Koster
'Piece of Paradise no. 5', 2023
Unique sculpture
Shipping and handling per order
The Netherlands: Free
Europe: €16,50
Rest of the world: €25
Unique wall sculpture
Rubber, fabric, wood

Height: 155 cm | Width: 21 cm | Depth: 4,5 cm

Incl. wall mounting suspension
Nynke Koster is an artist operating in between the fields of autonomous art and contemporary design. In her work she attempts to reinvigorate the ornament. By shifting perspectives and using unexpected materials Nynke is able to reinterpret the tales these decorative capsules of history try to tell. She has created a set of semi-practical aesthetic objects deeply grounded in (art) history but simultaneously very much in touch with contemporary desires.
This jarring reinterpretation of the experience of the monumental is further explored her version of the 'Porta del Paradiso' (1425) by Lorenzo Ghiberti, based on a copy of this Italian masterpiece purchased by the director of the Royal academy of Art in 1921. Specially for Post Modern Collection Nynke has created small-scale inverted rubber casts of sections of the doors. They are presented as installation pieces on the wall in bright powerful colors. The public is invited to touch the pieces to navigate the ancient panels telling the stories of the old testament.
Nynke has chosen mostly to work with the Prophets and Prophetesses that are depicted on the doors.