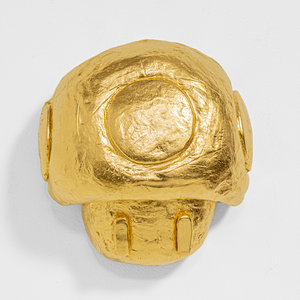 Roosje van Donselaar
'Facial', 16 x 11 x 16,5 cm
Unique, signed, gold plated clay wall sculpture
Shipping and handling per order
The Netherlands: Free
Europe: €16,50
Rest of the world: €25
Unique, handmade, signed sculpture (2023)
Gold plated clay (24 Carat)
Height: 16,5 cm | Width: 16 cm | Depth: 11 cm
Including suspension
Ceramic sculptures. Petrified expressions. Fragments of dreams, time traveling through centuries, and desires.

Visual artist Roosje van Donselaar (1986, Haarlem) creates sculptures and installations. To her, unknown materials and techniques form an important inspiration.
She starts her investigation without any prior knowledge of the materials. Van Donselaar discovers the materials' qualities and characteristics through intuitive creation. Throughout the process, the possibilities and limitations reveal themselves.
Next to this tactile trajectory, Van Donselaar analyses the material's historical value. She explores its meaning by delving deep into science, myths, legends and studies of (lost) civilisations.
The physical characteristics and the historical value of the materials lead Van Donselaar to the ultimate appearance and narrative of her work.
Her art pieces combine both a material and symbolic strength. They form a symbiosis of factual knowledge, fiction and cultural heritage. Guiding the audience from ancient history to future perspectives.