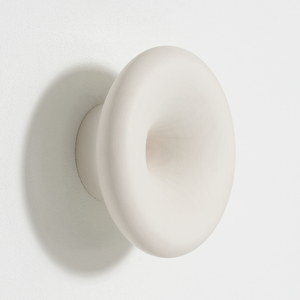 Ruben van der Scheer
'Speaking volumes', Ø 13,8 cm, 2022
Unique, signed wall sculpture
Shipping and handling per order
The Netherlands: Free
Europe: €16,50
Rest of the world: €25
Unique, signed wall sculpture
Wood (elm), matte paint on linseed oil base
Diameter: 13,8 cm / Depth: 6,7 cm
Incl. wall mounting suspension
A family of objects that celebrate the full and voluptuous round form as well as the void that is facilitated by its surrounding volume.

About Ruben van der Scheer

Sculptures with minimal and yet powerful appearances. Made using a woodturning lathe, these objects invite the viewer to touch and caress. At the same time, these designs may evoke contemplation. Whether painted or left natural, every object is made from a single piece of wood.

Once Ruben discovered that truth does not organize herself in a linear fashion, he began to search for her in the continuous line that is circular motion. Mysteriously, in the instant that the fully resolved form appears on his lathe, a piece of truth is found and consolidated in the work itself. Which, from that moment onward will lead a life of its own. A life with its new owner, wherever they may journey.