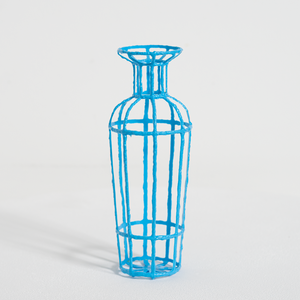 Sebastiaan Straatsma
'Blue frame', H: 20,5 cm
Unique, handmade, signed sculpture
Shipping and handling per order
The Netherlands: Free
Europe: €16,50
Rest of the world: €25
Unique, handmade, signed sculpture (2023)
Epoxy
Diameter: 7,5 cm / Height: 20,5 cm
Since Sebastiaan Straatsma (1972, Dokkum, the Netherlands) started designing, playing with existing forms, function and context has been central to his work. Archetypes and objects with historical and emotional value fascinate him. He re-uses and re-interprets these into new sculpture products and objects. He makes small adjustments to them, changes, abuses and replaces their form, soul and status. By doing so, he provokes our common perception of objects and articles of use.

In 2006, vases became Straatsma's subject of research. Fascinated by classic archetypical ceramic vases, he started challenging the recognizability of their form, function, material and history. This led to the ever-growing series of unique and handmade 'Dustcollector' vases, made from (brightly) colored epoxy resin. Originally, these kinds of vases were 'canvases' displaying contemporary symbols, drawings and representations. Straatsma continues this tradition by using contemporary images and symbols, resulting in a combination of a well-known form and a non- characteristic material.

'Dustcollector' refers to the non-functionality of these vases, which Straatsma has taken as a starting point for his translation. This resulted in an open form, not pretending to be functional at all, unless as decoration and eye candy, while at the same time still referring to the emotional value of the well-known classical archetypes.

Straatsma has developed his own, unique, technique. With each vase he follows a process – from an idea, a collage or sketch, to preparing a mold, mixing colors and actually making the vase by drawing, splattering and squirting the epoxy resin. This is a material he very much enjoys working with; endless possibilities for construction and decoration are merged into one single material. A material so strong and elegant, one can draw with it. It can be used as a very thin, open, skin, but can also be applied layer after layer, creating a thick and almost crude structure.

The vases distinguish themselves not only through their contemporary symbolism, but also through their detailed handwork and the specific method of production developed by Straatsma.

The series of vases can be roughly divided in three groups: classic, narrative and abstract.

The classic vases, many of which date from the early days of the series, are the ones closed to the original inspiration – beautifully decorated ceramic pieces – in a very well executed translation of their form and decoration. This lead, for instance, to large trumpet vases, which instantly reminiscent of the Chinese originals and create tension between the glossy epoxy resin and the imperial porcelain.

The narrative vases tell a story, about Straatsma's worldview, the future, mythical stories, love, or a theme that has been developed together with a client. Although the form of these vases still refers to the canonical form, there is a sharp contrast through the texts and symbols used. Straatsma often makes use of well-known images and symbols for bringing his story about, making this group of vases closely linked to pop art. Layer on layer, story on story, image on image, these vases continue to be appealing and surprising.

The abstract vases are a wide range of very interesting pieces, from explosions of color, structure and technique, to sedate and serene ones. The abstract vases are the most experimental of the series – the ones where Straatsma challenges himself in using new techniques, colors and omitting and adding layers and structures.