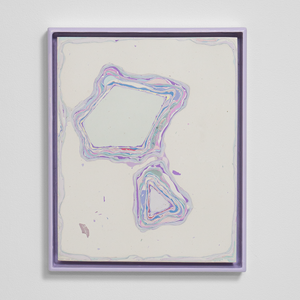 V&B (Alex Jacobs and Ellemieke Schoenmaker)
'Cosmic Zoom no. 21', 2022
Unique, signed and numbered art piece
Shipping and handling per order
The Netherlands: Free
Europe: €16,50
Rest of the world: €25
Unique, signed and numbered art piece

Pigmented plaster on wood

Width: 22 cm / Height: 27 cm / Depth: 3,5 cm
Incl. suspension
Cosmic Zoom is a series of semi-monochrome pigmented plaster 'paintings'.  This work is based on our interest in the origins of our world and life itself.
What do we consider 'Life'? If we look into different levels of size, zooming in on our body or zooming out to our earth, we see what is normally hidden: sections of different imaginary lives.
This series is made by layering pigmented plaster onto 3-dimensional shapes. After this process the works are sanded and polished until the required result is achieved.

This series consists of 4 different 'zooms'. Each 'zoom' is made up of 6 unique individual 'paintings' that can also work as a tableau.

1. Pinkish Zoom is inspired by our body as an organism consisting of different large organs working together to make the body work.

2. Brownish Zoom looks at landmasses, continents, islands. Understanding the shape of landmasses is very difficult from our pretty flat perspective life on the planet. We have to travel to space to actually see the earth as a ball and see all the continents.

3. Yellowish Zoom is based on zooming in on our cells. A cell is the smallest unit that can live on its own and that makes up all living organisms and the tissues of the body.

4. Purple-ish Zoom stems from a sympathy for crystals. The scientific definition of a "crystal" is based on the microscopic arrangement of atoms inside it.

We humans think we know it all but we have zero means to really understand or control the enormous amount of interconnections in the universe. Not only our lives are wonders of coincidence. Crystals, trees, mountains, planets, molecules, ants and sparrows share the same wonder. Let's all marvel at these wonders of life and enjoy our time here……

V&B (Alex Jacobs and Ellemieke Schoenmaker) is an artist duo founded in Los Angeles in 2007. Their twofold brain has created an adventurous body of work that stems from both technical and conceptual inspiration and research. It's not easy to make sense of everything that goes on in the world around us. From hi-tech gadgets to climate change, it sometimes seems like a jumble of random noise continually barraging us. Their current practice is based on an interest in the birth of our Mother Earth, the origins of life itself and our cognitive relation with the universe. Over the years, they have increasingly discovered a love for the nature of the surface. On top of that, they also became more aware of nature and the difficult position it seems to be in; the eco-crisis that threatens life on earth.

V&B have had multiple solo and group exhibitions in National and International museums, exhibition spaces and galleries. Among others: Torrance Art Museum, Gemeente Museum Den Haag, TENT Rotterdam, Museum Boijmans van Beuningen, Galerie Jaap Sleper and Co-Prosperity Sphere, Chicago. Next to exhibitions they have received many awards and stipendia. Among others: The New Rembrandt by the AVRO, Royal Painting Prize and Stipendium Established Artist at the Mondriaan fund. Their work can be found in both private and public collections. For example Centraal Museum Utrecht, Museum Voorlinden, VU Medical Centre, AKZO NOBEL Art Foundation and Fondazione Arnaldo Pomodoro, Milan, Italy.