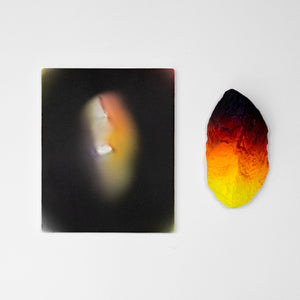 V&B (Alex Jacobs and Ellemieke Schoenmaker)
The Beginning of All Theory (Analogue Digital Adaptations) 7/10, 2022
Unique, signed and numbered art piece
Shipping and handling per order
The Netherlands: Free
Europe: €16,50
Rest of the world: €25
Acrylic on wood (left), acrylic on PU (right)

21 × 17 × 1,5 cm (left), 15,5 × 9 cm × 6,5 cm (right)

Incl. suspension
Incl. Certificate of Authenticity
This work stems from an interest in the phenomenon of describing and theorizing visual art. When did we start communicating about objects, when did we start making art? Or did we start communicating about the idea of something being art first? The shifting in western society towards art being more and more conceptual, theorized and research based is a field of interest.
Is it possible to make art that transcends any theory and communication? The archetype painting is another field of interest. These Analogue Digital Adaptations aspire to stretch the limits between painting, photography and sculpture. It is an attempt to ascend the material form. This diptych is a painting in acrylic on wood and a painted reproduction of a rock.
The painting is hand painted and uses a special technique to 'paint' the rock. It is in a sense a reproduction or an imprint of the rock. By using this technique it becomes uncertain to the viewer if this is a painting or perhaps a (digital) print or other reproduction. The rock itself is a metaphor for the first ever theorized object. A gradation of theoretical importance.
V&B (Alex Jacobs and Ellemieke Schoenmaker) is an artist duo founded in Los Angeles in 2007. Their twofold brain has created an adventurous body of work that stems from both technical and conceptual inspiration and research. It's not easy to make sense of everything that goes on in the world around us. From hi-tech gadgets to climate change, it sometimes seems like a jumble of random noise continually barraging us. Their current practice is based on an interest in the birth of our Mother Earth, the origins of life itself and our cognitive relation with the universe. Over the years, they have increasingly discovered a love for the nature of the surface. On top of that, they also became more aware of nature and the difficult position it seems to be in; the eco-crisis that threatens life on earth.

V&B have had multiple solo and group exhibitions in National and International museums, exhibition spaces and galleries. Among others: Torrance Art Museum, Gemeente Museum Den Haag, TENT Rotterdam, Museum Boijmans van Beuningen, Galerie Jaap Sleper and Co-Prosperity Sphere, Chicago. Next to exhibitions they have received many awards and stipendia. Among others: The New Rembrandt by the AVRO, Royal Painting Prize and Stipendium Established Artist at the Mondriaan fund. Their work can be found in both private and public collections. For example Centraal Museum Utrecht, Museum Voorlinden, VU Medical Centre, AKZO NOBEL Art Foundation and Fondazione Arnaldo Pomodoro, Milan, Italy.